Student Chapter Activities
The WBU Student Chapter of SHRM is all about having fun while participating in HR activities and helping out the community! We have educational meetings once a month, hold fundraising events, and do community service projects every term.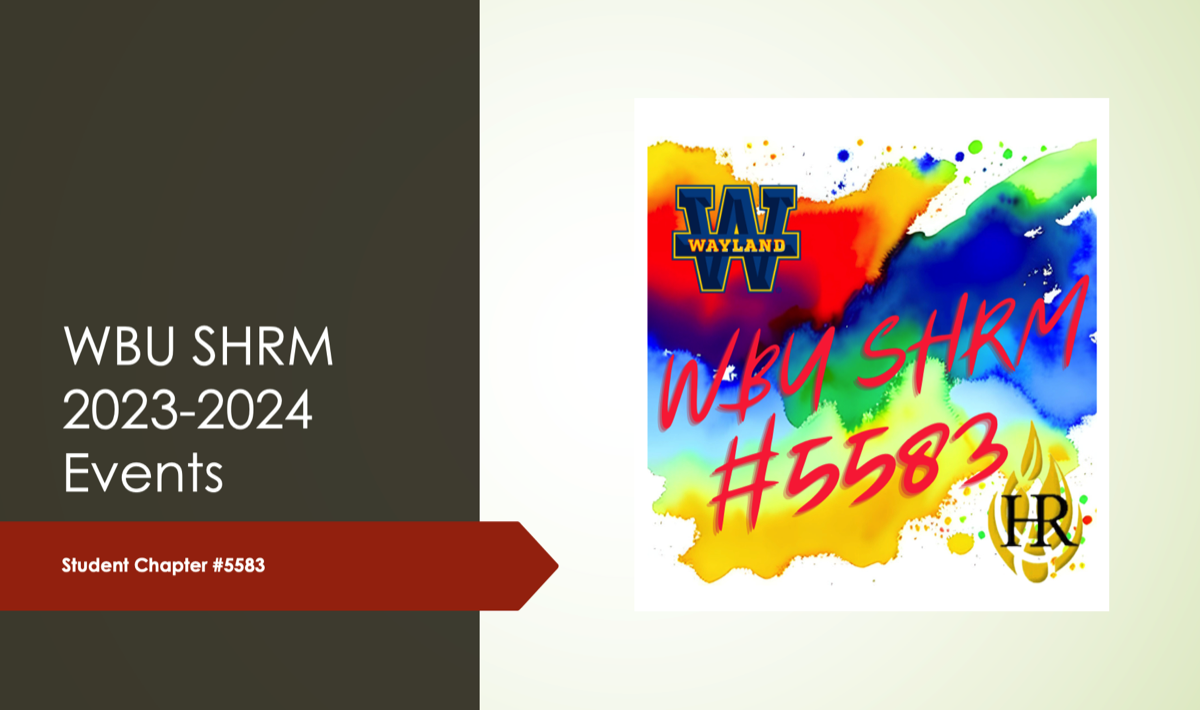 Schedule

Next In-Person Event:


October 16 (Monday) - Dr. Charla Brown LIVE - Enron: When you Work in HR & the End is Near
REGISTRATION

History & Highlights

2023 Webcasts


January
The Truth About Money

February
How YOU Influence the Culture of a (Company, Team, Place, Endeavor) - Jayly Jackson

May
When You Must Deliver Bad News

August
Why Most Resumes Fail (What You Don't Know about AI)

September
Universal Management Competencies - Dr. Dave Rambow
In-person and Zoom presentation.


2022

January 18

How Volunteering Impacts Your Career & Business
Chellie Skoog, community leader and program manager with The Foraker Group

Chellie Skoog, Vice President of Programs with The Foraker Group

February 9
Excel at Data in Your Work Life: Data Analytics You Can Use
Penny Mosher, WBU Graduate Student
Understand how data can be analyzed - apply Excel skills to coursework and job assignments

March 12
Career Management Seminar (Annual Half-Day Event)

April
Conflict Management

May
Humor That Includes

June
Decision Making: Are Your Major Stakeholders at the Table?
Jaymie Hebert, SCP - City of Wasilla


July
History of HR Management – Impact of Early Leaders' Theories

August
Time Management – What You Do in School is What You Do in Jobs


2021

August
Onsite & Remote Jobs: Employment Indicators in the Pandemic Aftermath

Bill Popp, President & CEO, Anchorage Economic Development Corporation

September
Digital Dexterity: Do You Have The Technical Intelligence For Your Career Success?
Aimee Basham, IT & Accountant

October
Is Your World Inclusive – Or Just Diverse?
George Martinez, Vice President of Communications and Community Engagement at Alaska Humanities Forum

November


Soon It Will Be 2022: Do You Know Where Your Impact on Legislative Action Is?
Molly Webb, MBA, PHR, SHRM-SCP

December
The Worst Advice About Pay & Compensation (What to Know When Getting a Job or Running a Business)
Attorney David Miklas


People Management: Setting Yourself Apart

August
When COVID19 Changed My Career Plans: Stories from Graduates
Earlier… available on WBU Blackboard

September 16, 2020 Remote Work Trends (COVID & the New Era)

October 20, 2020 Emotional Intelligence: Importance in Remote Work

November 19, 2020: Applying What You Learning in Your Prior Job

December - dedicated to community service through Socks for Vets and Bean's Cafe

January 19, 2021 LinkedIn Skills & Tips
THE AUTUMN 2023 SERIES


Join WBU SHRM for a series of presentations that bring you current with management , emphasizing the human element of business. Note that some are via Zoom, and others are live events hosted at WBU in Anchorage, AK.

August 24 (Thursday) - Dr. Mary M Rydesky LIVE - Why Most Resumes Fail (Maybe it is What You Don't Know About AI)
September 14 (Thursday) - Dr. David Rambow LIVE - Competencies in Your Management Career
October 16 (Monday) - Dr. Charla Brown LIVE - Enron: When you work in HR & the end is near
November 6 (Monday) - Dr. Alan Cabelly ZOOM - Generations in the Workplace - A New Look

Live events will be hosted at WBU at 6 PM, ending at 8 PM. Zoom events go live at 6:15 PM and the Zoom room will be posted during the month of the event. You are welcome to attend and to bring a guest More details will be posted near the date of each event.
Career Management Workshop:
An Annual Event

When March 11, 2023
Time 8:45 AM - Speakers 9:00 AM to 1:30 PM (AK)
Where reach mary.rydesky@wayland.wbu.edu for info

Experts on the topics of resumes and interviews, personal branding, networking, and negotiating. Have your resume in hand for this presentation!

2023 SPEAKERS
Bill Popp, President & CEO of the Anchorage Economic Development Corporation

Christopher St. John, Alaska Regional Director
for Airswift

Katherine Dawson, Vice President and Regional Banking Manager for Wells Fargo

Jarrett Carson, General Manager and National Director of Human Resources for Zo Financial
Community Service Projects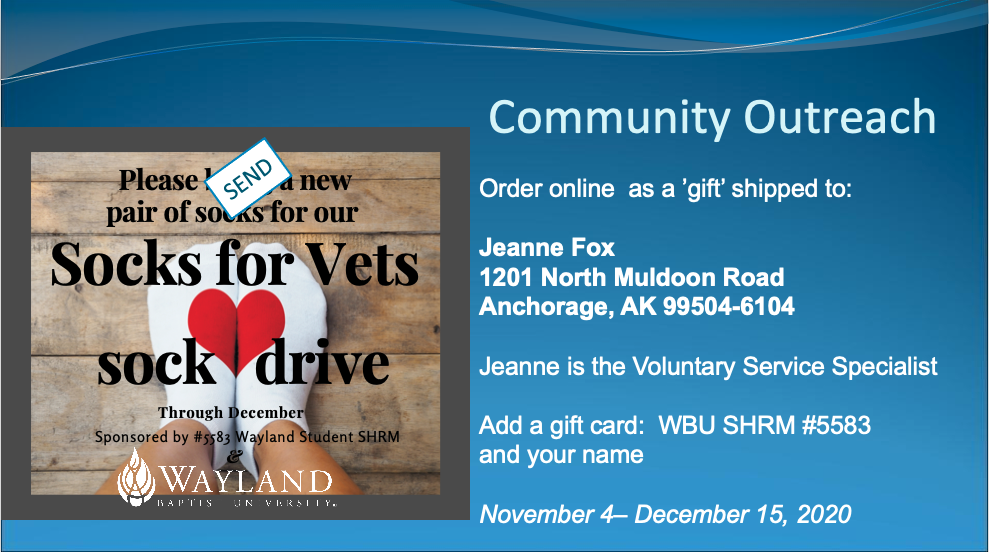 Socks for Vets

A new activity in 2019, the students purchased socks to be distributed at the VA Clinic in support of the Socks for Vets program. Warm socks make for better Alaskan winters for vets!

The 2023-2024 program is about to begin!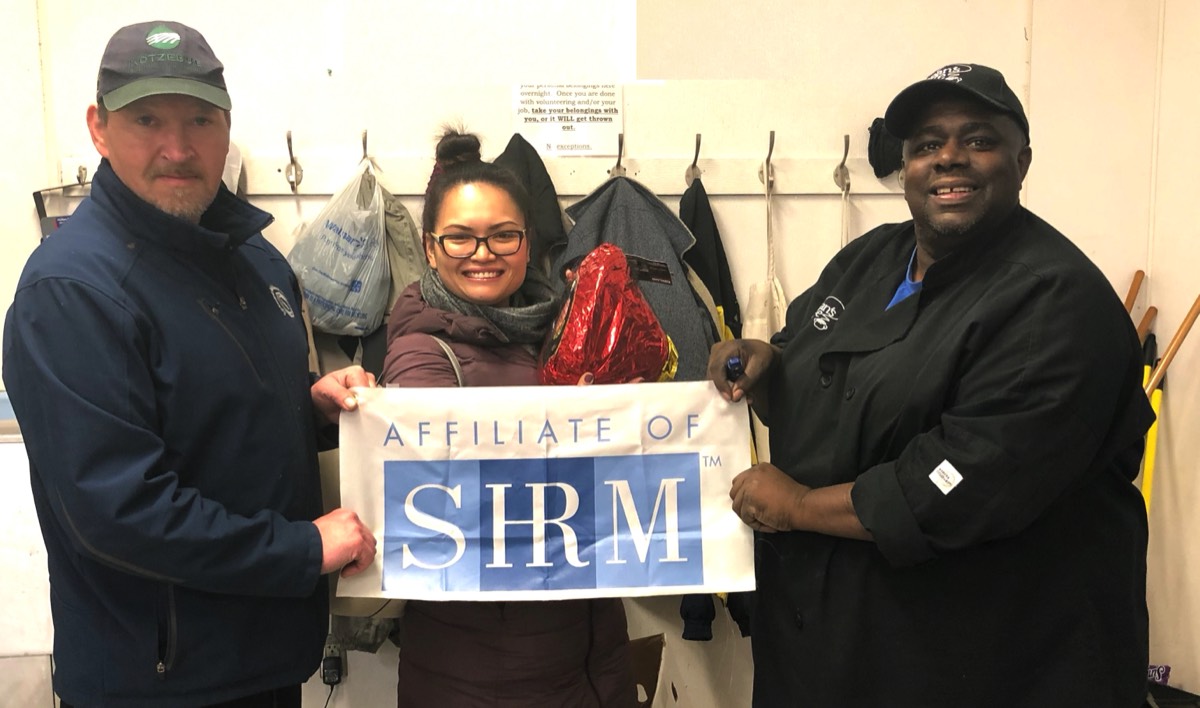 Holiday Meals at Beans Cafe The WBU family supported #5583 WBU SHRM in raising money to purchase turkeys and hams for Thanksgiving and Christmas meals at Bean's Cafe, helping others enjoy the season of giving.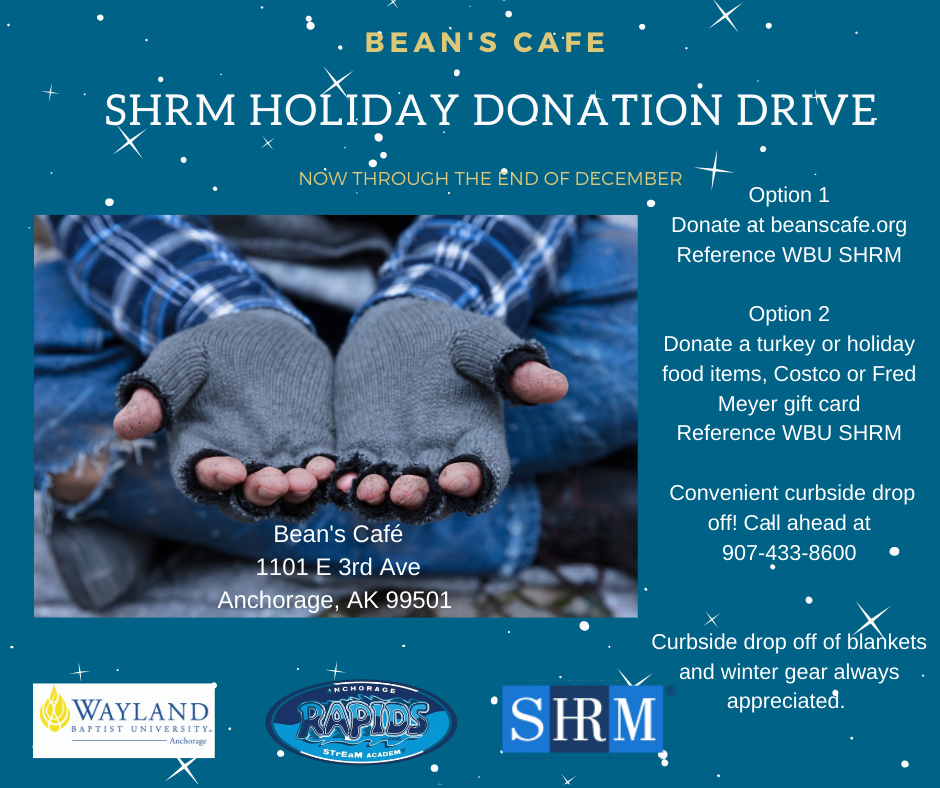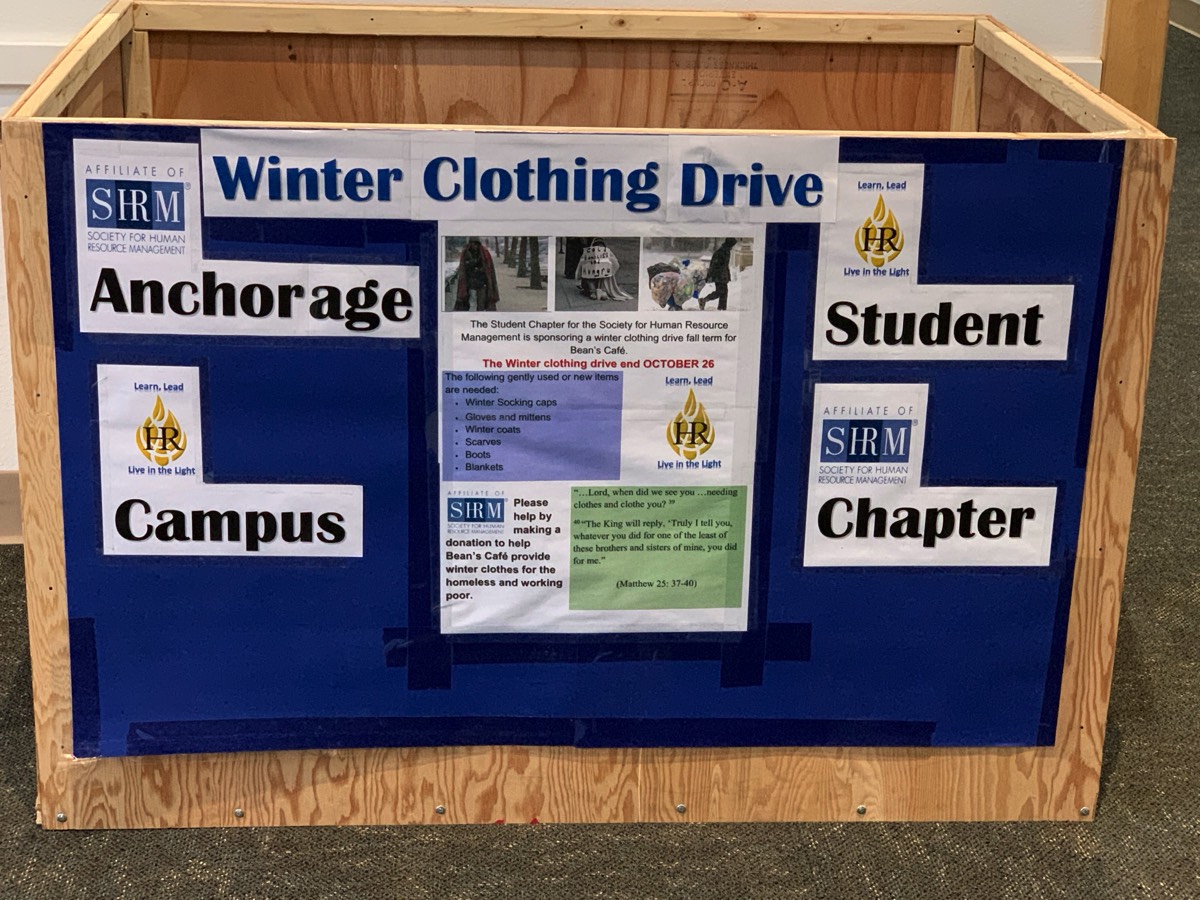 Christmas Beanie Box Drive

Around Christmas, the students at Wayland Baptist University donate items for Beanie Boxes. The Beanie Boxes are given to Bean's Cafe for clients there to open the day of Christmas.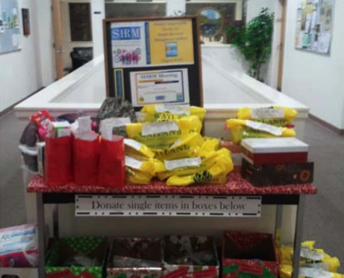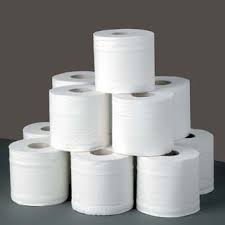 Great Alaska IditaRoll Drive
Our Student Chapter has held an event called the Great Alaska IditaRoll Drive named after the famous Alaska Dog Sled race, the Iditarod. This drive focused on one important thing we'd miss if we ran out: toilet paper. Every winter we go all-out to collect toilet paper to donate to the local shelter Beans Cafe. Click
here
for pictures and stories of previous years!